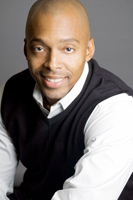 Adelphi University is pleased to present "Grand Simplification: The Challenge of Historical Illiteracy in the Age of Mass Incarceration," a lecture by Khalil Gibran Muhammad, Ph.D., on April 2, 2013, at 7:00 p.m. in the Adelphi University Performing Arts Center (AUPAC), Olmsted Theatre, 1 South Avenue, Garden City, NY. Dr. Muhammad is the director of the Schomburg Center for Research in Black Culture and former associate professor of history at Indiana University. This event, co-sponsored by the Center for African, Black and Caribbean Studies and the Office of the President, is free and open to the public.
Dr. Muhammad is at the forefront of scholarship on the enduring link between race and crime that has shaped and limited opportunities for African Americans. In late 2010, he was selected to take over the helm of the historic Schomburg Center, one of the world's leading research facilities dedicated to the history of the African diaspora, currently celebrating its 86thyear.  
His research has been featured in the New York Times, The Washington Post, The Guardian, and The New Yorker, as well as other well renowned media outlets such as National Public Radio and C-SPAN. As an author, he has been recognized with the 2011 John Hope Franklin Best Book award in American Studies for his book The Condemnation of Blackness: Race, Crime, and the Making of Modern Urban America. His second book, Disappearing Acts: The End of White Criminality in the Age of Jim Crow will focus on society's response to crime and the dynamics of criminal punishment in society. Originally from Chicago, Dr. Muhammad holds a B.A in economics from the University of Pennsylvania and a Ph.D. in American History from Rutgers University.
For more information on upcoming lectures and events at Adelphi, please contact the Cultural Events Hotline at 516. 877.4555, or visit events.adelphi.edu.
About Adelphi: A modern metropolitan university with a personalized approach to higher learning.
Adelphi University is a highly awarded, nationally ranked, powerfully connected doctoral research university offering exceptional liberal arts and sciences programs and professional training with particular strength in its Core Four—Arts and Humanities, STEM and Social Sciences, the Business and Education Professions, and Health and Wellness. Adelphi is dedicated to transforming students' lives through small classes, hands-on learning and innovative ways to support student success.
Founded in Brooklyn in 1896, Adelphi is Long Island's oldest private coeducational university. Today Adelphi serves nearly 8,000 students at its beautiful main campus in Garden City, New York—just 23 miles from New York City's cultural and internship opportunities—and at dynamic learning hubs in Manhattan, the Hudson Valley and Suffolk County, and online.
More than 100,000 Adelphi graduates have gained the skills to thrive professionally as active, caring citizens, making their mark on the University, their communities and the world.